Introduction – On 5 November 2013, the new SILSO webpages (WDC Sunspot) were officially released. Simultaneously, the new name and logo for the WDC were also announced.
 
From SIDC to SILSO

Over the past two years, a profound modernization of the sunspot index processing has been undertaken. So far, this evolution remained largely invisible to our users but in the coming months, it will lead to improved and expanded data products. Moreover, a full revision of the historical sunspot index series itself is also in preparation, following a series of Sunspot Number Workshops that started in 2011. In view of this major step, we have now created a brand new website that is destined to become the central portal for accessing the sunspot index data and other long-term records of solar activity: http://www.sidc.be/silso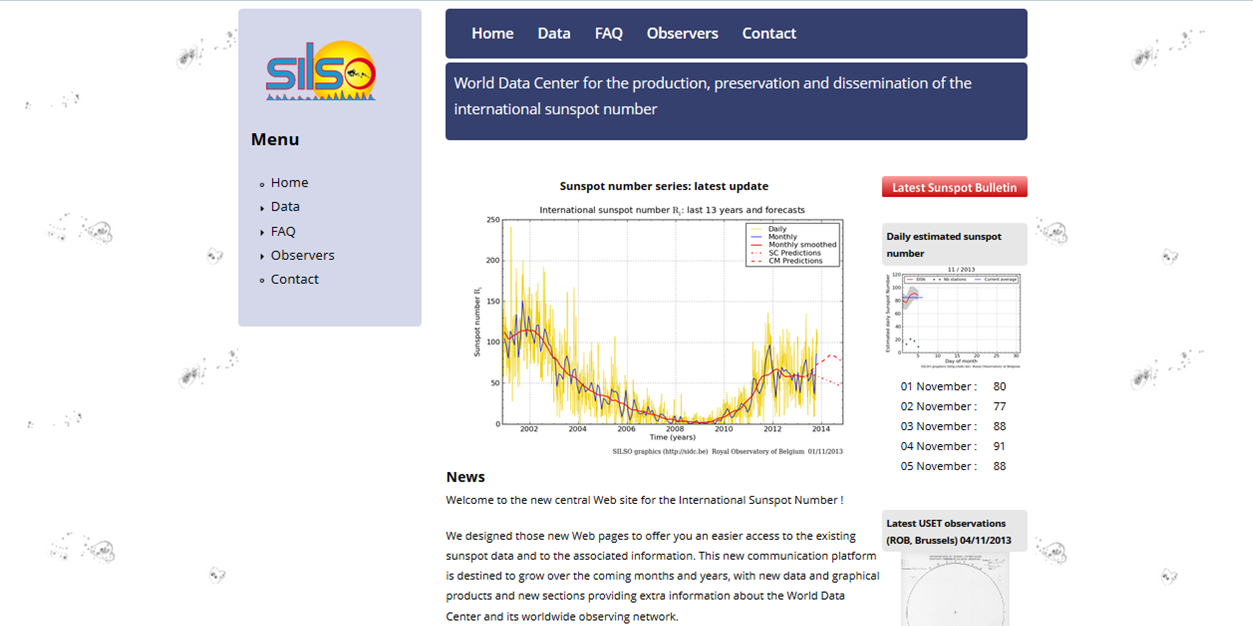 In order to reflect this major milestone and the new scope of our World Data Center (WDC), we also decided to adopt a new name and acronym: SILSO for "Sunspot Index and Long-term Solar Observations", with a new logo.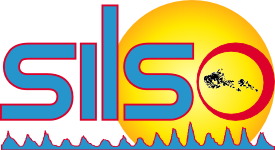 SILSO also becomes our new official name as member of the ICSU World Data System. The WDC-SILSO remains hosted at the SIDC Brussels. Since 1981, the SIDC (originally "Sunspot Index Data Center") evolved to become the overarching name of the current Solar physics team of the Royal Observatory of Belgium ("Solar Influences Data analysis Center"). In the very wide range of activities and projects encompassed by the current SIDC, SILSO now gathers all long-term ground-based services and research activities addressing the specific needs of our users interested primarily in the evolution of solar activity and Sun-Earth relations over long timescales.

The new SILSO website

It is thus with pleasure that we publicly release our new SILSO website. We designed those new webpages to provide a user-friendly access to the existing sunspot data and to the associated information. This new communication platform is destined to grow over the coming weeks and months, with new data and graphical products and new sections providing additional information about the World Data Center, its methods and its worldwide observing network.

In order to avoid an abrupt transition for our users, the current initial version still provides our data files in their traditional format, but it already includes various additional features: improved data documentation, a dynamical plot of the latest estimated international sunspot number (EISN) updated every 5 minutes, files in CSV-format (for direct import in your favorite spreadsheet) and a FAQ section.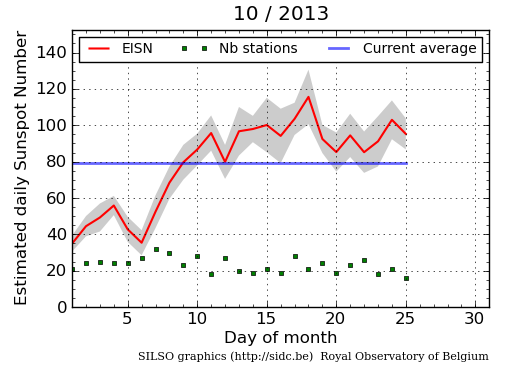 Please explore the new sections and don't hesitate to make comments and suggestions. New ideas are always welcome and we will strive to implement them while the site is maturing. Our future plans include e.g. SILSO network statistics, error bars on the sunspot numbers and the extension of the group number series (Hoyt & Schatten, 1998).

So, please bookmark this new central "Sunspot" website and stay tuned for upcoming changes and new features!


Frédéric Clette
WDC Director
 
---
Submitted by FC on Tue, 2013/11/05 - 00:00