Update: October 19, 2014 - 18:00UT

NL: Een krachtige zonnevlam vond deze morgen plaats. De gevolgen voor België blijven voorlopig beperkt.
FR: Une forte éruption a eu lieu ce matin. En ce moment, les conséquences pour la Belgique sont limitées.
EN: A strong solar flare took place earlier this morning. The consequences for Belgium are limited for the time being.
 
---

X1.1 flare op 19 Oktober 2014

Deze morgen, om 05:03UT, heeft de Zon een krachtige zonnevlam geproduceerd. Gebaseerd op de huidig beschikbare gegevens, blijven de gevolgen voor België beperkt. Updates (in het Engels) zijn beschikbaar op de website van het SIDC.

De bron van de uitbarsting is NOAA 2192, een complexe en grote zonnevlekkengroep aan de zuidoostkant van de zon.
Er was boven België geen verstoring van de HF radio-communicatie.
De flux van hoog-energetische deeltjes blijft voorlopig stabiel.

Coronagrafische beelden tonen aan dat er geen plasmawolk gepaard ging met deze zonnevlam.

In de komende dagen worden er meer dergelijke uitbarstingen (X-klasse) verwacht, met mogelijk plasmawolken die naar de aarde toe gericht zijn.
---
 
Une éruption X1.1 le 19 Octobre 2014

Ce matin, à 05:03UT, une forte éruption solaire a été observée. Se basant sur les données actuelles, les conséquences pour la Belgique seront limitées. Les mises-à-jour seront disponibles (en Anglais) sur le site web du SIDC.

La source de l'éruption est NOAA 2192, un grand et complex groupe de tâches solaires au bord sud-est du Soleil.
Jusqu'à présent, aucune augmentation des particules énergétiques n'a été observée.
Une dégradation des communications HF radio au-dessus de la Belgique n'a pas été observée.
Actuellement, le nombre de particules énergétiques est stable.

Selon des images coronagraphiques, il n'y avait pas de nuage de plasma associé à cette éruption solaire.

Pour les jours suivants, des éruptions similaires (classe X) sont attendues, avec des nuages de plasma mieux dirigés vers la Terre.
---
 
X1.1 flare on 19 October 2014

This morning, at 05:03UT, The Sun produced a strong solar flare. Based on the currently available data, the consequences remain limited for Belgium. Updates (in English) are available at the website of the SIDC.

The source of the eruption is NOAA 2192, a big and complex sunspot group near the southeast limb of the Sun.
Above Belgium, no disturbance of the HF radio-communication was observed.
For the moment, the number of high-energetic particles has not increased and remains stable.

Coronagraphic images do not show any coronal mass ejection associated to this solar flare.

Over the next few days, more of this kind of solar eruptions (X-class events) are expected, with any associated plasma clouds better directed to Earth.
---
 
Movies - Films - Vidéos
PROBA2/SWAP (EUV). SDO/AIA 131 (EUV). SDO/AIA 304 (EUV).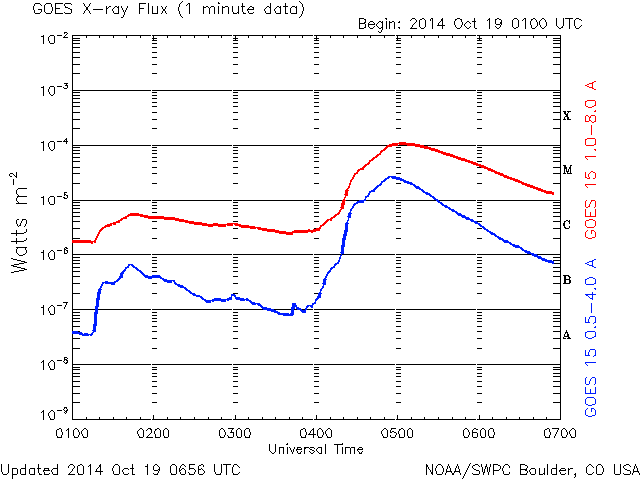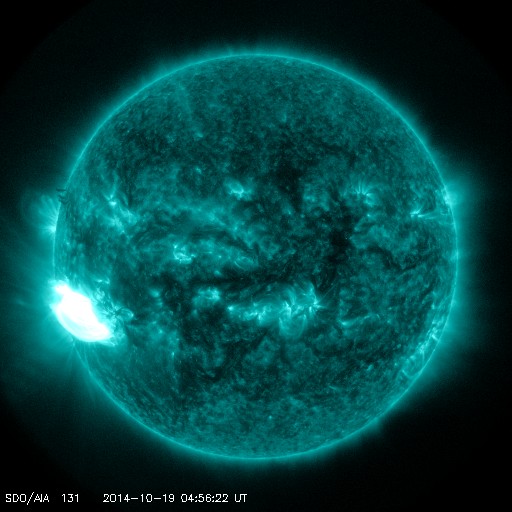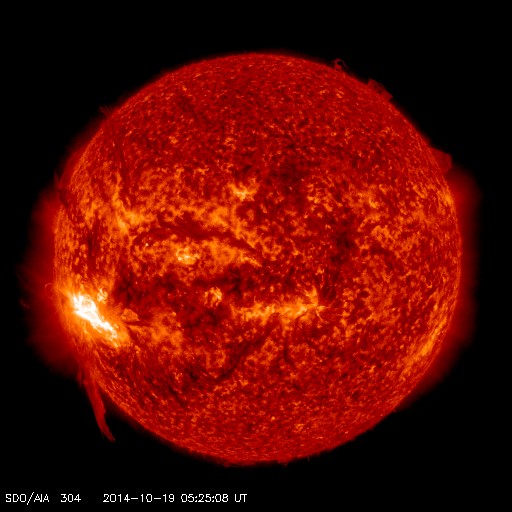 ---
Submitted by JJ on Sun, 2014/10/19 - 00:00