Updated: November 08, 2014 - 07:30UT

NL: NOAA 2205 produceerde een krachtige zonnevlam. De gevolgen voor België blijven voorlopig beperkt.
FR: NOAA 2205 était à l'origine d'une éruption solaire. En ce moment, les conséquences pour la Belgique sont limitées.
EN: NOAA 2205 produced a strong solar flare. The consequences for Belgium are limited for the time being.

Movies and pictures - Films en foto's - Vidéos et images
 
---

NOAA 2205 produceert een X1.6 zonnevlam

Op 7 november om 17:26UT produceerde NOAA 2205 een X1.6 zonnevlam. Gebaseerd op de huidig beschikbare gegevens, blijven de gevolgen voor België beperkt. Updates (in het Engels) zijn beschikbaar op de website van het SIDC.

Dit was de eerste X-klasse zonnevlam van NOAA 2205, nadat deze relatief kleine, maar magnetisch complexe zonnevlekkengroep reeds 11 medium zonnevlammen had geproduceerd sinds 3 november.

Er was een korte verstoring van de HF radio-communicatie boven Noord- en Latijns-Amerika.

De flux van hoog-energetische deeltjes blijft voorlopig stabiel.

Een plasmawolk werd uitgestoten, maar deze is niet naar de aarde gericht of zal hoogstens rakelings langs de aarde trekken rond 11 november. Er is geen kans op poollicht vanuit België.

Gezien de hoge activiteit in NOAA 2205 worden er de komende dagen meer dergelijke uitbarstingen (klasse X) verwacht, mogelijk vergezeld van hoog-energetische deeltjes, evenals van plasmawolken die naar de aarde toe gericht kunnen zijn.
---
 
Une éruption X1.6 produite par NOAA 2205

Le 7 novembre à 17:26UT, NOAA 2205 était à l'origine d'une éruption X1.6. Se basant sur les données actuelles, les conséquences pour la Belgique seront limitées. Les mises-à-jour seront disponibles (en Anglais) sur le site web du SIDC.

C'était la première éruption de la classe X provenant de NOAA 2205. Ce groupe de taches solaires relativement petit a une configuration magnétique complexe et avait déjà produit 11 éruptions moyennes depuis lundi passé.

Il y avait une dégradation des communications HF radio de courte durée au-dessus de l'Amérique latine et les Etats-Unis.

Actuellement, le nombre de particules énergétiques est stable.

Un nuage de plasma a été éjecté, mais celui-ci n'est pas dirigé vers la Terre ou passera tout juste vers le 11 novembre. Les aurores boréales ne seront pas visibles de la Belgique.

En vue de l'activité intense dans NOAA 2205 durant ces derniers jours, plus d'éruptions similaires ("eXtrême") sont attendues, avec la possibilité qu'elles soient accompagnées par des particules énergétiques, ainsi que par des nuages de plasma qui puissent être dirigés vers la Terre.
---
 
NOAA 2205 produces an X1.6 solar flare

On 7 November at 17:26UT, NOAA 2205 produced an X1.6 flare. Based on the currently available data, the consequences remain limited for Belgium. Updates (in English) are available at the website of the SIDC.

This was the first X-class solar flare from NOAA 2205, a relatively small but magnetically complex sunspot group which was responsible for 11 medium solar flares since its appearance last Monday.

A degradation of the HF radio-communication was observed over the United States and Latin-America.

For the moment, the number of high-energetic particles has not increased and remains stable.

A coronal mass ejection was associated to this flare, but it was not directed to Earth and will at most deliver a glancing blow around 11 November. Any polar lights will not be visible from Belgium.

In view of the intense activity from NOAA 2205, similar solar eruptions (X-class events) are expected over the next few days, possibly accompanied by high-energetic particles, as well as the ejection of plasma clouds which may be directed to Earth.
---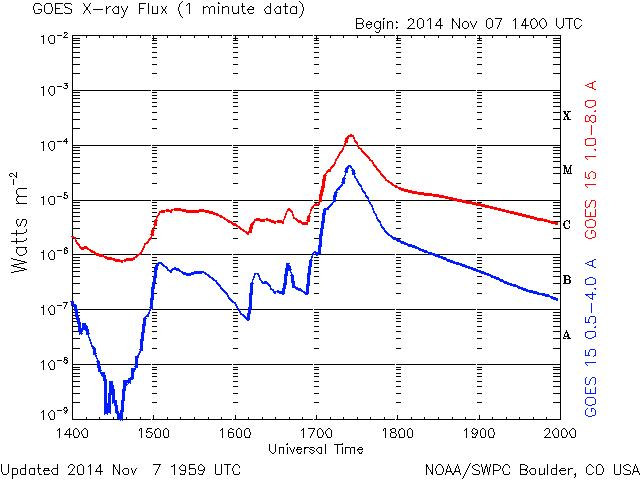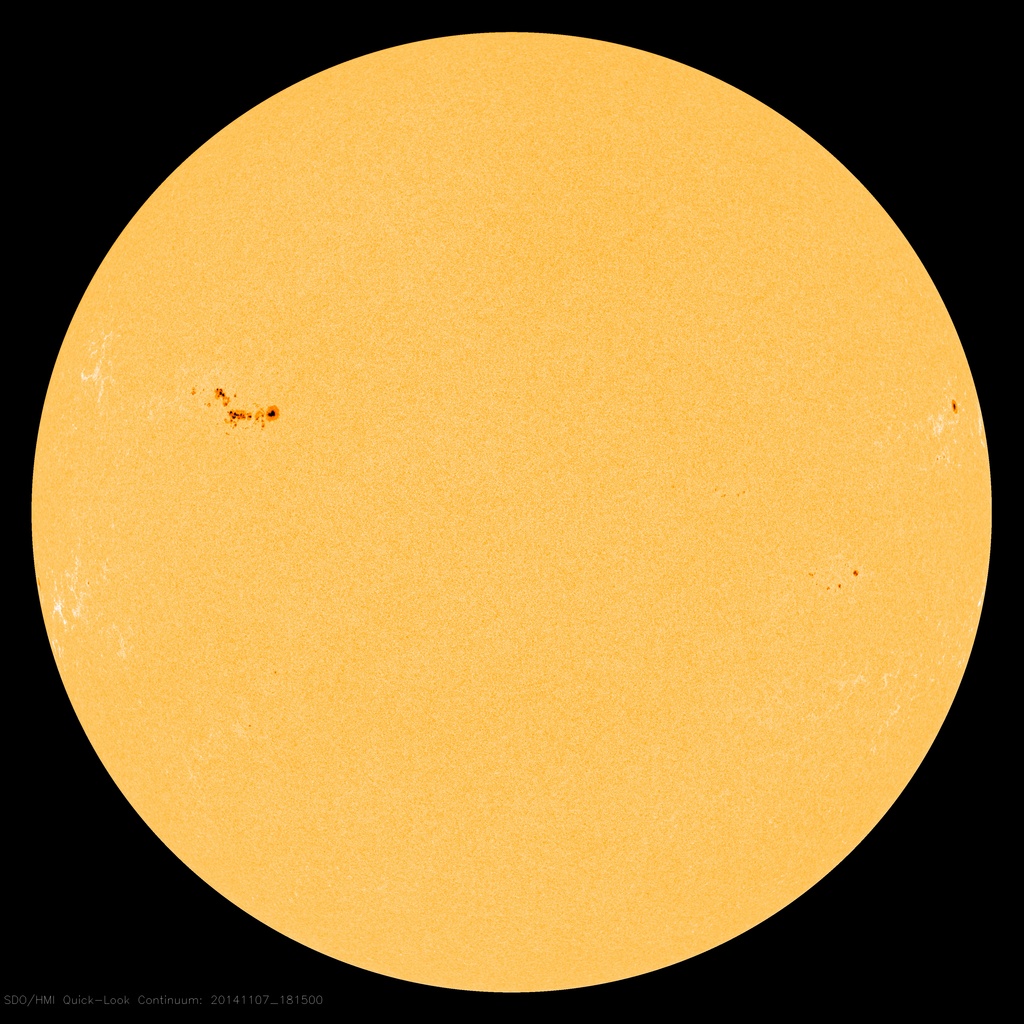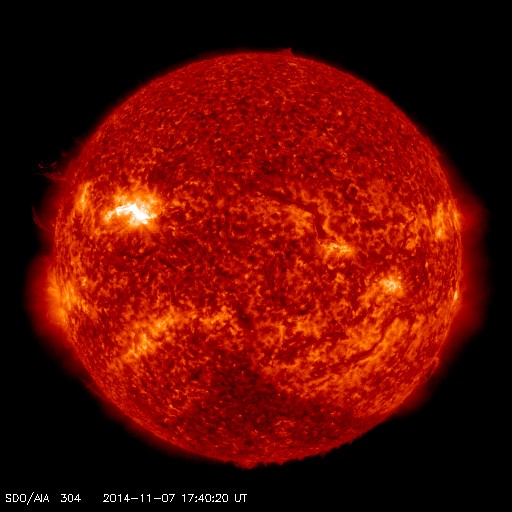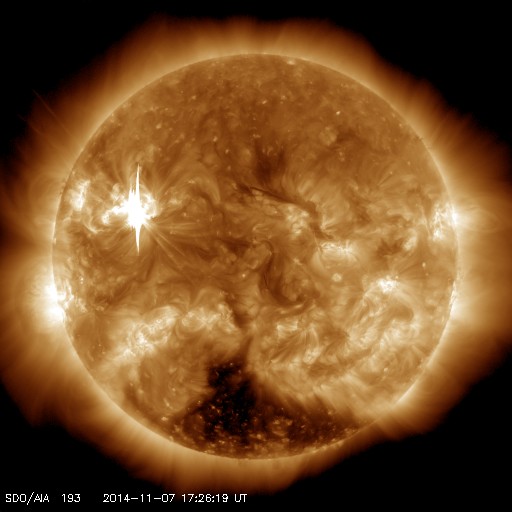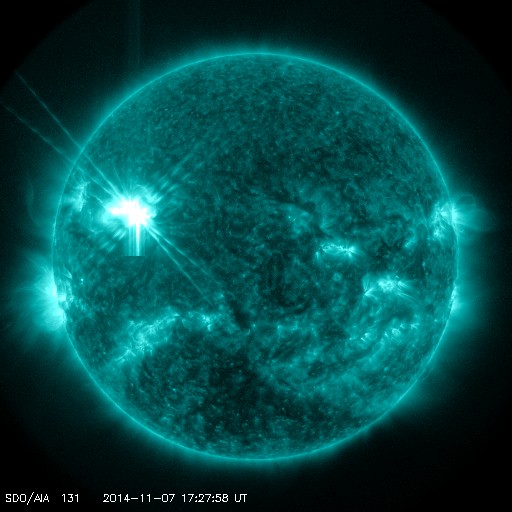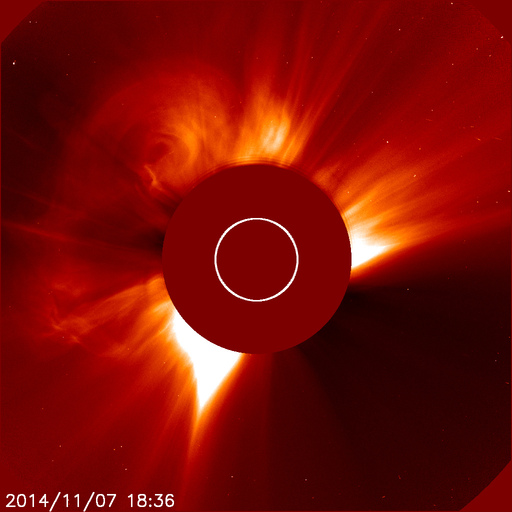 ---
Submitted by JJ on Fri, 2014/11/07 - 21:00