NL: NOAA 2297 produceerde een krachtige zonnevlam. De gevolgen voor België blijven beperkt.
FR: NOAA 2297 était à l'origine d'une forte éruption solaire. Les conséquences pour la Belgique sont limitées.
EN: NOAA 2297 produced a strong solar flare. The consequences for Belgium are limited.

Movies and pictures - Films en foto's - Vidéos et images
 
---

NOAA 2297 produceert een krachtige X-klasse zonnevlam

Op 11 Maart om 16:22UT produceerde NOAA 2297 een X2.1 zonnevlam. Dit was de krachtigste zonnevlam van NOAA 2297 sinds zijn verschijning op 6 Maart. Deze relatief kleine, maar magnetisch complexe zonnevlekkengroep produceerde de afgelopen twee dagen ook al 6 medium zonnevlammen, wat mogelijk duidt op een intensificatie.

De HF radio-communicatie was vooral verstoord boven Latijns-Amerika en het oosten van de Verenigde Staten. Er was slechts een matige storing boven België, West-Europa en West-Afrika.

De flux van hoog-energetische deeltjes blijft voorlopig stabiel.

Radiowaarnemingen vanuit het Humain Radioastronomy Station tonen duidelijk de aanwezigheid van een schok, wat duidt op de uitstoot van een plasmawolk. Beelden in het extreem ultraviolet tonen duidelijk dat het grootste deel niet naar de aarde gericht is. Gezien de positie van NOAA 2297 op de zonneschijf blijft er niettemin een kans dat een deel van deze wolk naar de Aarde gericht is. In afwachting van coronagrafische beelden wordt onder groot voorbehoud de impact van deze plasmawolk verwacht op 13 Maart rond 18:00UT (+/- 12 uur). Een geomagnetische storm is mogelijk, maar de kans op poollicht boven België wordt zeer klein geacht.

In de komende dagen worden er meer dergelijke uitbarstingen verwacht, mogelijk vergezeld van hoog-energetische deeltjes, evenals van plasmawolken die naar de aarde toe gericht kunnen zijn.

Updates (in het Engels) zijn beschikbaar op de website van het SIDC.
---
 
Une forte éruption de la classe X pour NOAA 2297

Le 11 Mars à 16:22UT, NOAA 2297 était à l'origine d'une éruption X2.1, la plus forte depuis son apparition sur le disque solaire le 6 Mars. Ce groupe relativement petit mais magnétiquement complexe, a été la source de 6 éruptions modérées les deux derniers jours, signe d'une intensification possible.

Les communications HF radio étaient fortement dégradées au-dessus de l'Amérique latine et l'est des Etats-Unis. Une dégradation de courte durée a été observée au-dessus de la Belgique, l'Europe occidentale et l'Afrique.

Actuellement, le nombre de particules énergétiques est stable.

Les observations radio provenant de la Station Radio à Humain montrent clairement la présence d'un choc, signe très probable d'une éjection d'un nuage de plasma. Des images EUV montrent que le noyau du nuage n'est pas dirigé vers la Terre. En vue de la position de NOAA 2297 sur le disque solaire, il reste cependant probable qu'une partie de ce nuage de plasma est dirigé vers la Terre. En attendant les images coronagraphiques, l'impact du nuage est sous réserve attendu le 13 Mars vers 18:00UT (+/- 12 heures). Une tempête magnétique est possible, mais l'apparition des aurores au-dessus de la Belgique est peu probable.

Pour les jours suivants, des éruptions similaires sont attendues, avec la possibilité qu'elles soient accompagnées par des particules énergétiques, ainsi que par des nuages de plasma qui puissent être dirigés vers la Terre.

Les mises-à-jour seront disponibles (en Anglais) sur le site web du SIDC.
---
 
NOAA 2297 produces a strong X-class solar flare

On 11 March at 16:22UT, NOAA 2297 produced a strong X2.1 solar flare. This was the strongest flare since NOAA 2297 appeared on the solar disk on 6 March. This relatively small but magnetically complex sunspot group also produced 6 medium solar flares over the last 2 days, which may be an indication of intensifying activity.

A strong degradation of the HF radio-communication was observed over Latin-America and the east of the United states. Over Belgium, Western Europe and Africa, this degradation was only moderate and short-lived.

For the moment, the number of high-energetic particles has not increased and remains stable.

Radio observations from the Humain Radioastronomy Station clearly indicate the presence of a shock, indicating that a plasma cloud has been ejected (coronal mass ejection or CME). EUV imagery shows that the bulk of the CME is directed to the east and away from Earth. Nonetheless, taking into account the position of NOAA 2297 on the solar disk, it remains likely that part of this cloud is heading for Earth. Awaiting coronagraphic imagery, so with the necessary reservation, the impact of this CME is anticipated for 13 March around 18:00UT (+/- 12 hours). A geomagnetic storm is possible, but the chances on polar light over Belgium are slim.

Over the next few days, similar solar eruptions (strong M- or even X-class events) are expected, possibly accompanied by high-energetic particles, as well as the ejection of plasma clouds which may be directed to Earth.

Updates (in English) are available at the website of the SIDC.
---
 
Movies - Films - Vidéos
PROBA2/SWAP (EUV).
SDO (Solar Demon) (EUV).
GONG H-alpha Network (H-alpha).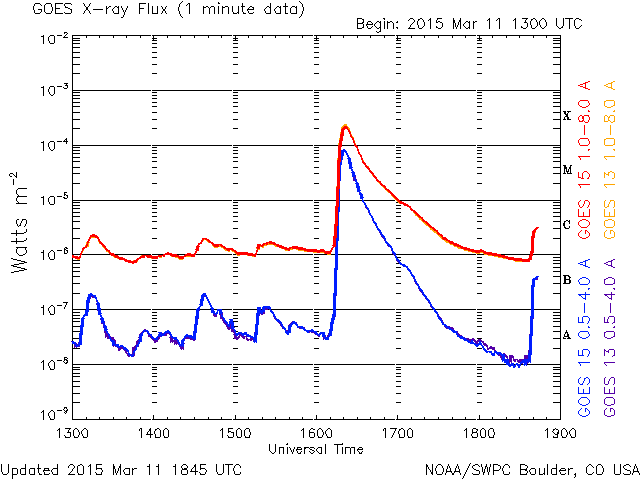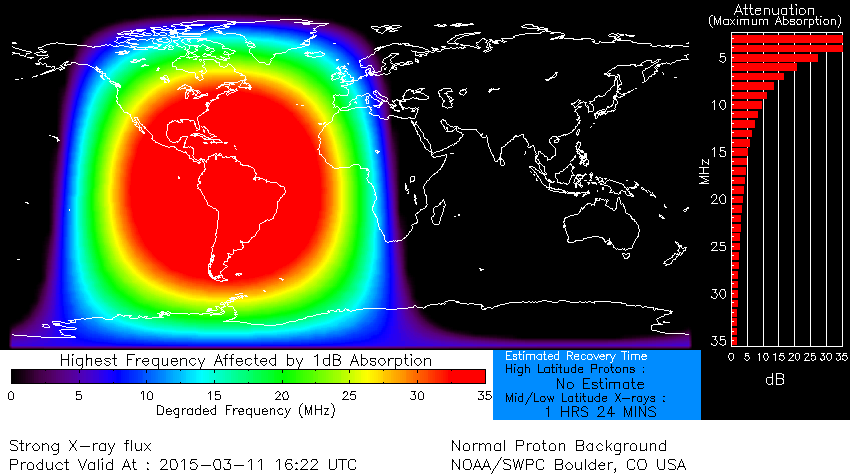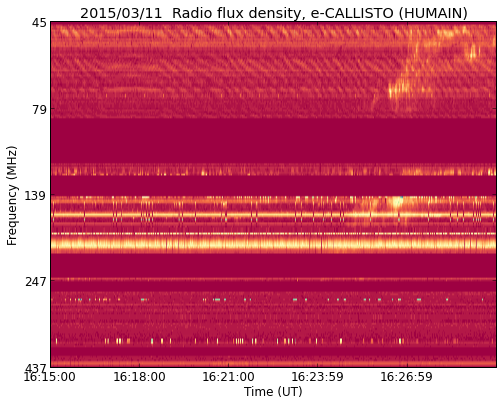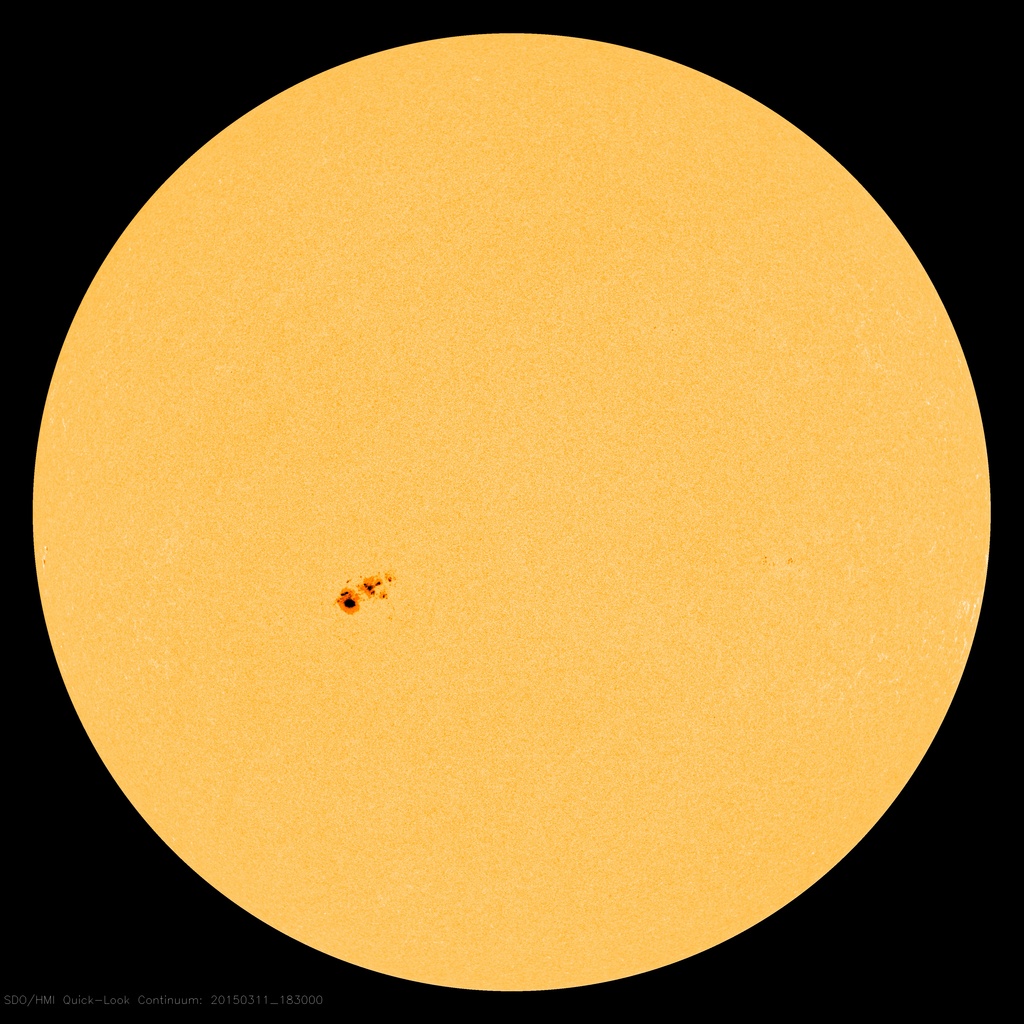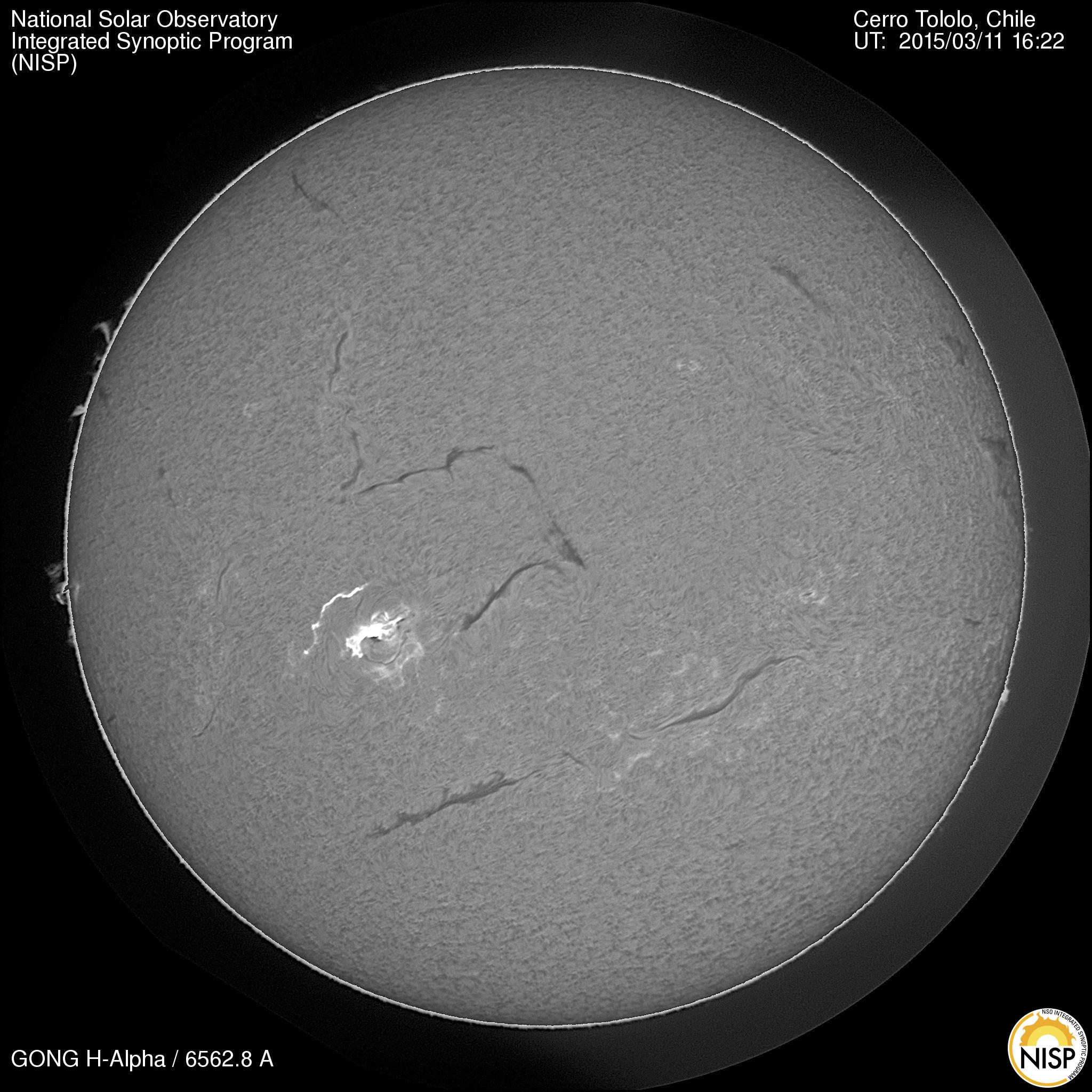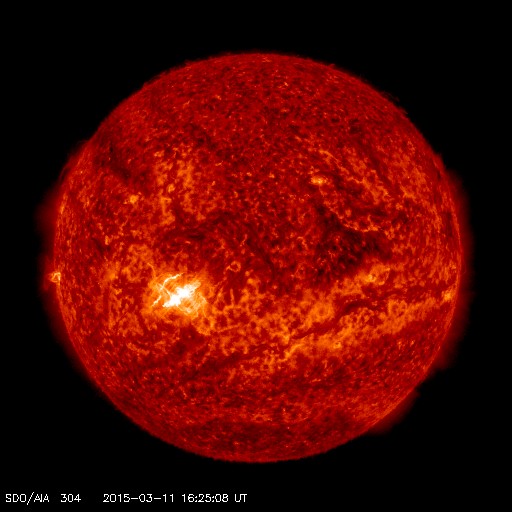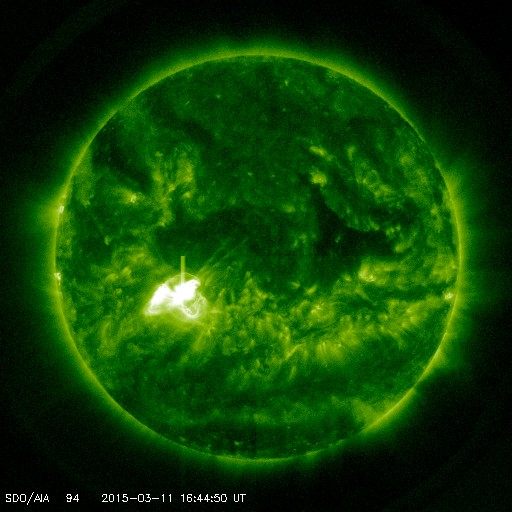 ---
Submitted by JJ on Wed, 2015/03/11 - 00:00