NL: Hogesnelheidszonnewind oorzaak van een krachtige geomagnetische storm
FR: La vitesse élevée du vent solaire à l'origine d'un orage géomagnétique majeur
EN: A high-speed solar wind stream as the source of a major geomagnetic storm

Movies and pictures - Films en foto's - Vidéos et images
 
---

Hogesnelheidszonnewind oorzaak van een krachtige geomagnetische storm

Op 25 Oktober tussen 08 en 10UT kwam een hogesnelheidsstroom van geladen deeltjes, afkomstig van een reusachtig coronaal gat op de Zon, aan bij de Aarde. Dit resulteerde in een krachtige geomagnetische storm. Poollicht was niet zichtbaar vanuit België, en bleef beperkt tot Scandinavië, Alaska, Australië en Nieuw-Zeeland.

Coronale gaten zijn letterlijk gaten in de atmosfeer van de Zon waarlangs energetische deeltjes kunnen ontsnappen naar de ruimte en zo de zonnewind "intensifiëren". In het algemeen geldt dat hoe groter het coronaal gat, hoe sneller de daaraan verbonden zonnewind. Ter hoogte van de Aarde kan deze deeltjesstroom poollicht creëeren evenals effecten zoals electrostatische ontladingen in satellieten. Het huidige coronaal gat had een geschatte oppervlakte van ongeveer 700 keer die van de Aarde, en een zeer hoge snelheid van de zonnewind van 830 km/s werd nabij de Aarde geregistreerd op 25 Oktober rond 23UT. De hieruitvolgende geomagnetische verstoring bereikte het niveau van een krachtige storm (voorlopige data), wat nog maar twee keer is voorgekomen zover dit jaar. Geen andere effecten werden totnogtoe gerapporteerd.

Gezien de grootte van dit coronaal gat wordt verwacht dat de hogesnelheidszonnewind de omgeving van de Aarde voor minstens de volgende twee dagen zal blijven beïnvloeden. Meer intervals van geomagnetische stormen worden verwacht, opnieuw zonder gevolgen voor België (geen poollicht). Updates (in het Engels) zijn beschikbaar op de website van het SIDC.
---
 
La vitesse élevée du vent solaire à l'origine d'un orage géomagnétique majeur

Le 25 Octobre entre 08 et 10TU, du vent solaire à vitesse élevée provenant d'un grand trou coronal est arrivé à la Terre. Un orage géomagnétique majeur en a résulté. Les aurores boréales n'étaient pas visibles de la Belgique, mais limitées à la Scandinavie, à l'Alaska, à l'Australie et à la Nouvelle-Zélande.

Un trou coronal est un trou dans l'atmosphère du Soleil par lequel des particules énérgétiques peuvent s'échapper dans l'espace, "intensifiant" le vent solaire normal. En général, plus grand est le trou coronal, plus élevée est la vitesse du vent solaire associé. Près de la Terre, ces courants de particules peuvent créer des aurores boréales et des effets de charge dans les satellites. Dans le cas du trou coronal actuel, sa surface était l'équivalent d'à peu près 700 fois celle de la Terre. Le 25 Octobre vers 23TU, des vitesses du vent solaire très élevées ont été enregistrées, environ 830 km/s. Ainsi, la perturbation géomagnétique associée a atteint le niveau d'un orage majeur (data préliminaires), ce qui n'est arrivé que deux fois cette année. Jusqu'a présent, pas d'autres effets ont été rapportés.

Vu l'énormité du trou coronal, il est attendu que le vent solaire associé influencera l'environnement de la Terre pour au moins les deux prochains jours. Encore plus d'épisodes d'orage majeur sont attendus, néanmoins sans conséquences pour la Belgique (pas d'aurores boréales). Les mises-à-jour seront disponibles (en Anglais) sur le site web du SIDC.
 
---
 
High-speed solar wind creates major geomagnetic storm

On 25 October between 08 and 10UT, the high-speed solar wind stream from a huge solar coronal hole arrived at Earth. It created a major geomagnetic storm. Polar lights were not visible from Belgium, but were essentially restricted to Scandinavia, Alaska, southern Australia and New Zealand.

Coronal holes are literally holes in the Sun's atmosphere, through which energetic particles can escape into space enhancing the normal solar wind. In general, the larger the coronal hole, the faster the associated solar wind speed. At Earth, these particle streams can result in polar lights and charging effects on satellites. In this case, the coronal hole had an estimated size of about 700 times the total surface area of the Earth, and very high solar wind speeds of 830 km/s were recorded near Earth late on 25 October. The resulting geomagnetic disturbance reached major storm levels (preliminary data), which has happened only twice before this year. No other effects have been reported so far.

In view of the size of the coronal hole, the high-speed wind stream is expected to continue influencing the earth-environment for at least the next two days. Further geomagnetic storming episodes are expected, however without any consequences for Belgium (no polar lights). Updates (in English) are available at the website of the SIDC.
---
 
Movies,... - Films,... - Vidéos,...
Some images in extreme ultraviolet by SDO and in x-ray by GOES/SXI.
Enkele beelden in extreem ultraviolet gemaakt door SDO en in x-ray door GOES/SXI.
Quelques images en ultraviolet extrême par SDO et en x-ray par GOES/SXI.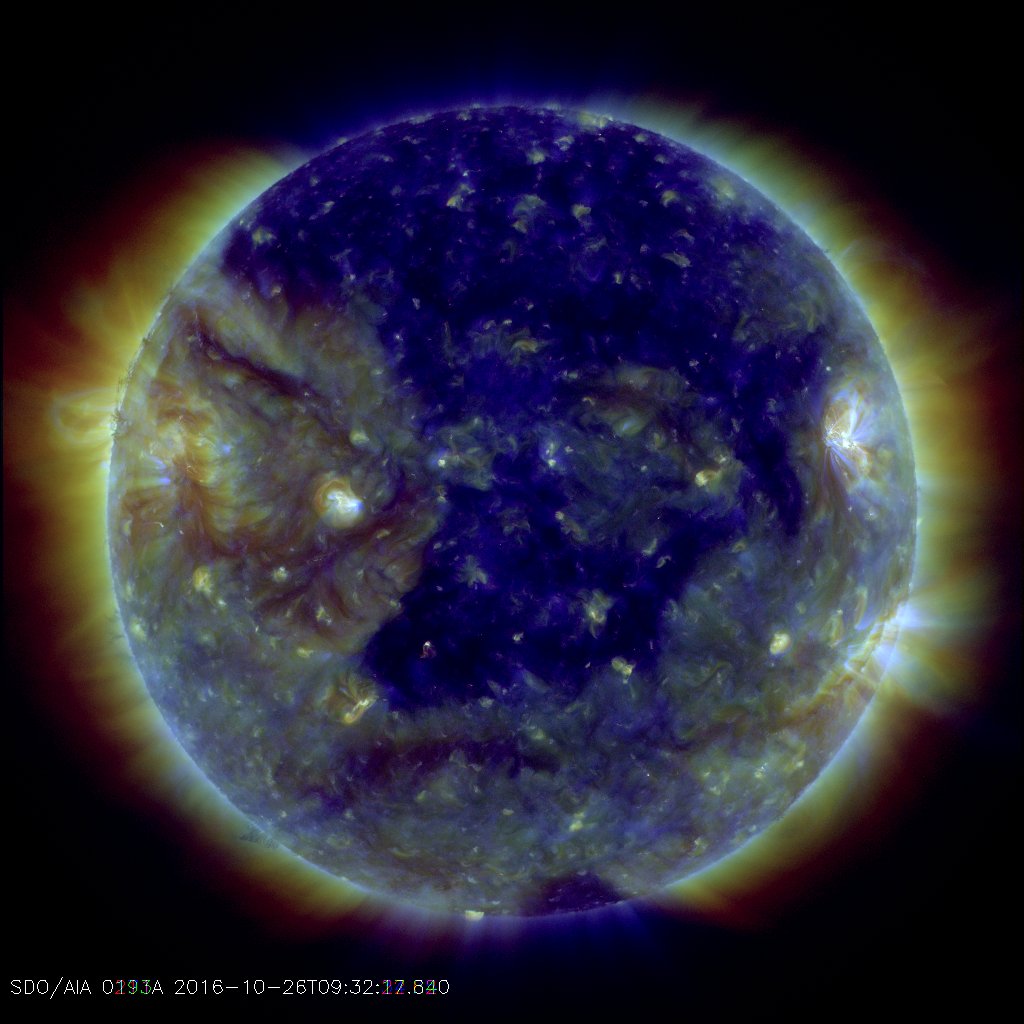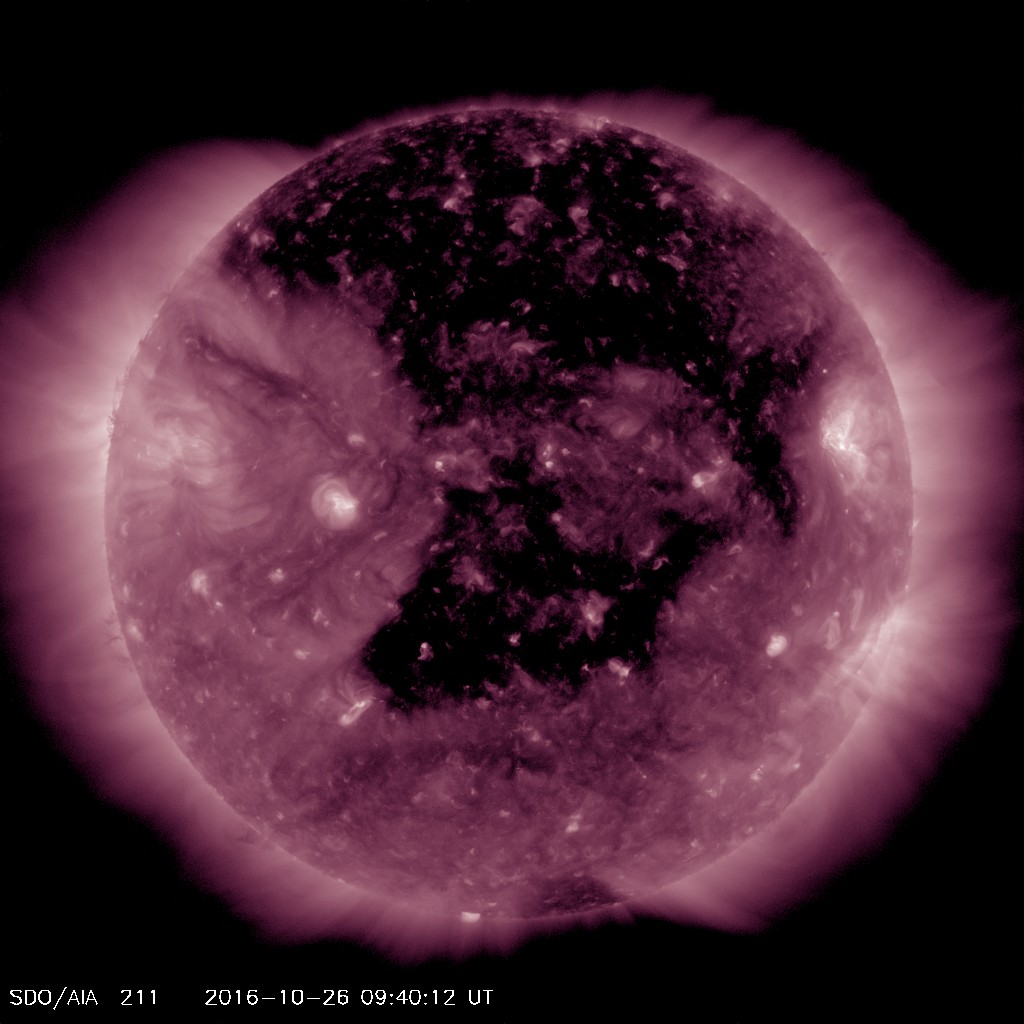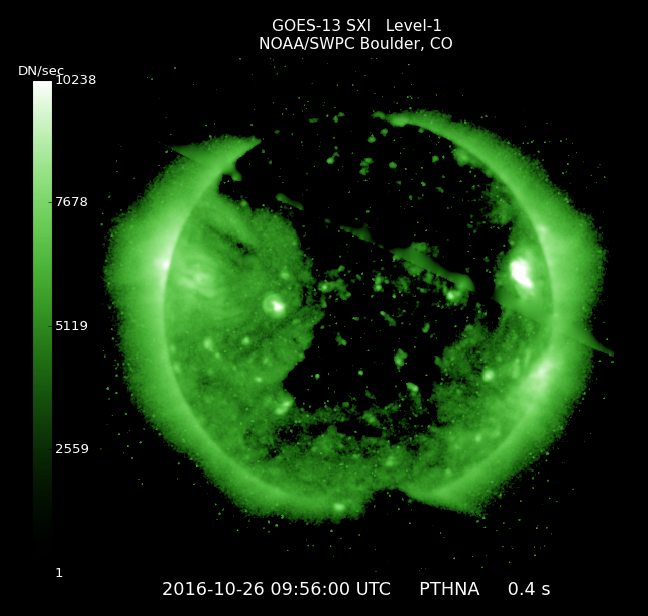 ---
Submitted by JJ on Wed, 2016/10/26 - 00:00