Conference site
Where are the sessions? Where to register, check the posters and drink coffee?
The sessions and TDMs will take place in the Maria Theresia College, Sint-Michielsstraat 6, 3000 Leuven.
In the rooms MTC 00.10 Large lecture room, MTC 00.15 Small lecture room, MTC 01.03 and MTC 00.03.
The wheelchair entrance: on the side of the building, accessible via the car park in the courtyard.

The registration desk, the poster and coffee area, the promotion room are located within the premises of the University Hall, the university's main building, address: De Hallen, Naamsestraat 22, 3000 Leuven.

Both locations are at 3 minutes walk distance.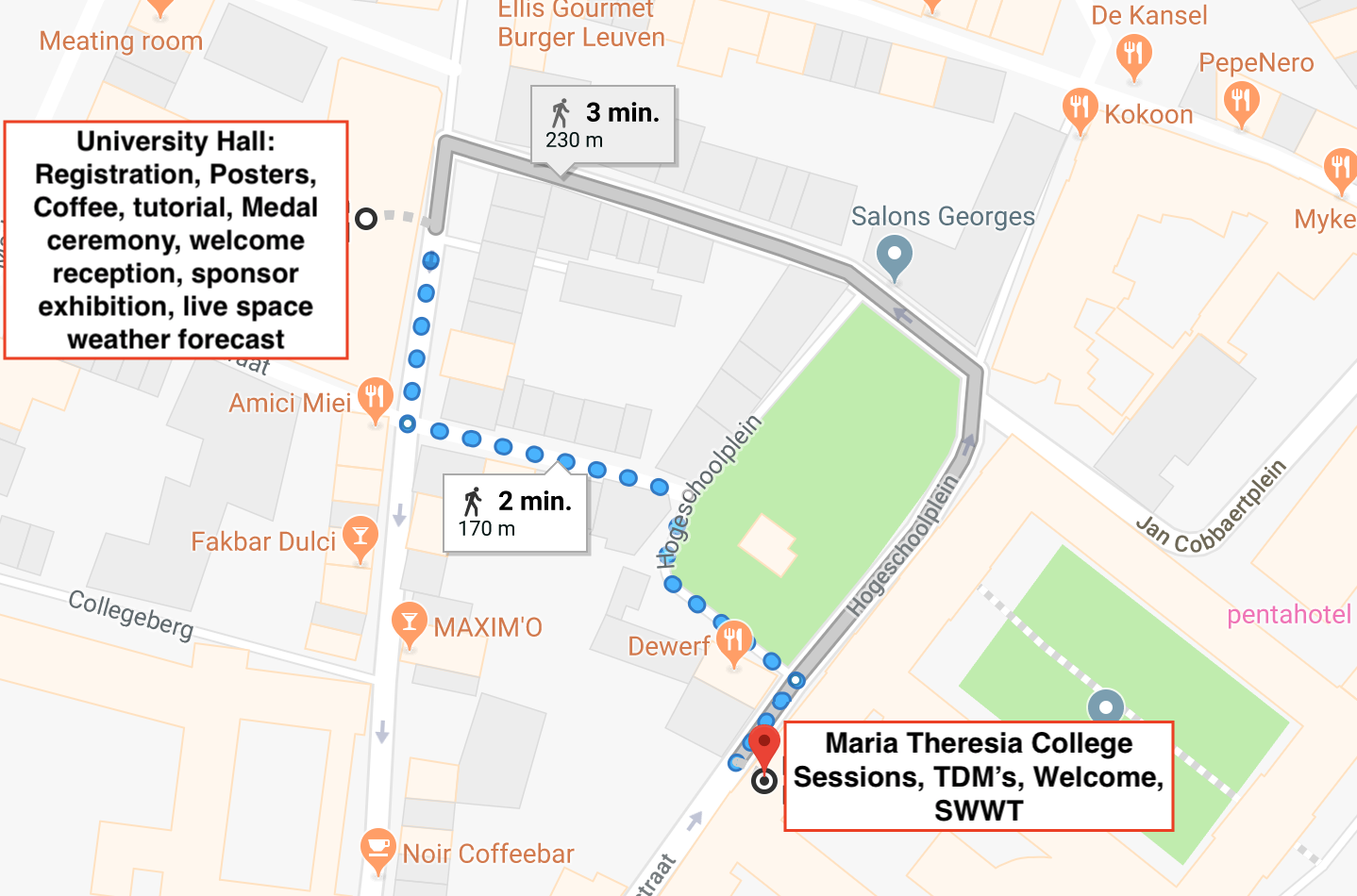 Transport to the conference site
Air connections to Brussels
Check the website of Brussels Airport

From Brussels Airport to Leuven by train
You can reach the railway station without leaving the airport. Follow the signs.
Use the search tool on the Belgian Railways website. Fill in : From "Brussel-Nat-Luchthaven" To "Leuven", choose the date.
Additional info

The railway station at Brussels International Airport is located in the basement (level -1).
It takes
* 13' (direct connection) or
* 37' (change once at Zaventem) .

A standard ticket (single, adult, second class, no reduction, Diabolo charge) costs 9,30EUR.
Tickets can be bought online or directly in the railway station. You can also buy a ticket on the train itself, but this will cost you 7EUR extra.
From Leuven railway station to the Conference Site by bus
Bus 2, 4' drive.

From Leuven railway station to the Conference Site by foot
The conference site is situated 1,1 km - 14' by foot.